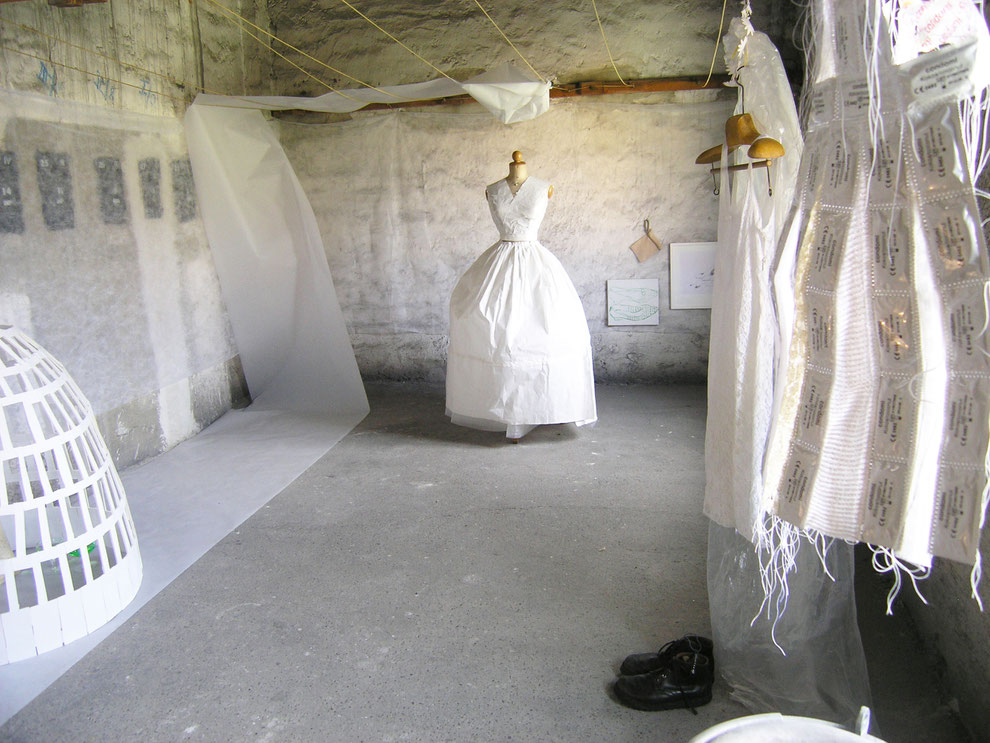 Brautkleider waren mir immer zu eng
Von Waltraud Palme, bildende Künstlerin, bekam Eva Hradil die Einladung, den ehemaligen Trockenraum einer Waschküche, nahe ihres Ateliers mit einer Präsentation zu bespielen. Der Raum war voll Russ, weil er auch den Rauchfangkehrern als Zugang zu den Kaminen dient.
Eva Hradil entschied sich, alles zu belassen, wie es ist.
Und mit etwas besonders sauberen, reinen zu reagieren.
Sie fertigte aus Reispapier (von ihrer Residency in China mitgebracht) ein Brautkleid, das der Schneiderpuppe (mit den Maßen 90-60-90cm) auf den Leib geschneidert war.
Ein Unterrock aus Luftkissenfolie.
Ein separater Unterrock aus Kapa-Platten.
Ein Brautschleier aus Transparentpapier.
Eine Schürze aus Kondompackungen.
Wedding dresses were to small-sized for me always
Eva Hradil was invited by Waltraud Palme to create a presentation of her works into a former drying room. This room was also used by chimney sweepers for years. So it was full with grime.
Eva Hradil made the decision to let the grime and react with "something especially clean and proper" and create an installation.
Sie built a wedding dress - made from ricepaper -  directly on the body of a dressmakers dummy (90-60-90 cm).
A petticoat from bubble wrap.
A petticoat apart made from Kapa-boards.
A bridal veil made from transparent paper.
A pinafore made from condoms inside their packets.